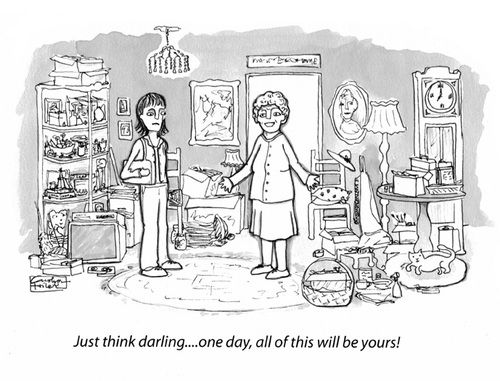 A person collects and keeps a lot of items, even things that appear useless or of little value to most people. These items clutter the living spaces and keep the person from using their rooms as they were intended.  This can cause distress or problems in day-to-day activities.
The Move Planners is a member of The Institute for Challenging Disorganization.  We have taken extensive training to work with seniors, chronically disorganized people and hoarding situations.
Over our lifetime we all tend to "collect".  The extent of what is collected is what differentiates the situation.  We have experience and know how to handle all sizes and reason for clutter.
In collecting, people usually proudly display their collections and keep them well organized.  Hoarding is different from collecting.  With hoarding, people seldom seek to display their possessions, which are usually kept in disarray.
We understand that it is difficult for clients when even thinking of getting rid of items.  A large amount of clutter in the home can make it difficult to use furniture, appliances or even moving around the house easily and safely.  Losing important items like money or bills in the clutter can lead to feeling overwhelmed by the volume of possessions that have 'taken over' the house.  We help our clients with the task of clearing out their space without taking away their control.  In some cases severe clutter threatens the health and safety of those living in or near the home, causing health problems, structural damage, fire risk, etc.
Conflict with family members and friends who are frustrated and concerned about the state of the home and the hoarding behaviors can lead to more stress and animosity.  Having the professional advice and experience from our staff can help both client and family achieve an amicable end result.
If you or someone you know is having trouble handling their extra clutter,
please call us today for a free 30 minute consultation.